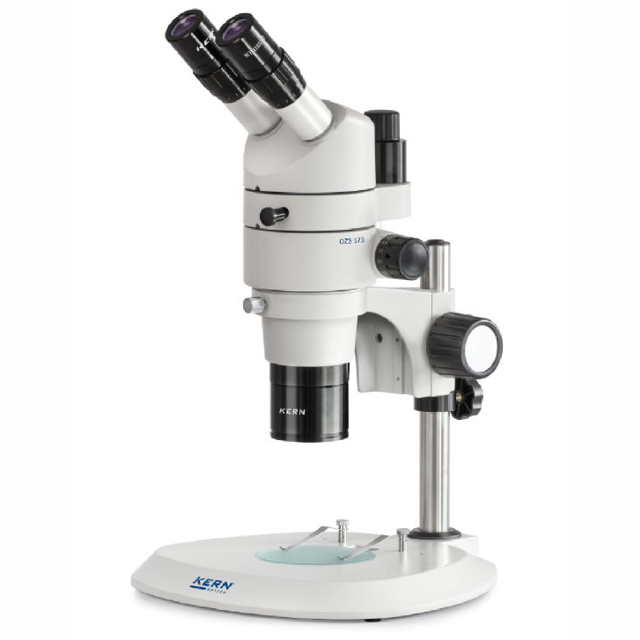 Stereo-zoom mikroskop KERN OZS 573
Trinocular
High-quality stereo zoom microscope with parallel optics and an above-average zoom range for demanding analyses

Tyska kvalitetsprodukter sedan 1844

The devices in the KERN OZS-5-series are special, high-quality stereo zoom microscopes with parallel optics and an above-average zoom range for demanding analyses.

The KERN OZS-5 series is available as a strong, continuously adjustable 3 W LED incident and transmitted light variant for the very best illumination of your sample or as a variant without illumination.

The parallel optical system is a high-quality optical system and provides excellent images with the best contrast, colour and depth of field with fatigue-free working.

Refocusing is also only necessary in very few cases when magnifying the zoom.

The exceptionally large, adjustable magnification range from 8 to 80 times magnification gives you continuous zoom for the views you need.

As standard, the models of the KERN OZS-5series are trinocular and are therefore equipped for connecting a camera for documentation purposes and for quality reports

These models are particularly flexible due to the modular construction, the pillar stand as well as the powerful, longlife LED incident and transmitted illumination which can be integrated as an option

A large selection of eyepieces, (universal) stands, a darkfield kit, external illumination units as well as auxiliary objectives and more are available as accessories

A protective dust cover, eye cups, as well as multi-lingual user instructions are included in the scope of the delivery

A C-mount adapter is required to connect a camera. You can select this adapter from the following model outfit list

Scope of application
In vitro fertilisation, detection of parasites, zoology and botany, section, quality control, electronics and semiconductor industry, assembly and repair

Applications/Samples
Samples with focus on three-dimensional, zoom with variable magnification (depth, thickness), e.g. insects, seeds, circuit boards, components.

Technical data
Optical system: Parallel optics
Brightness adjustable (separate)
Lens barrel 45° tilt
Magnification ratio: 10:1
Light distribution 50:50
Eye distance: 52.0 - 76.0 mm
dioptre compensation both sides
Overall dimensions W×D×H 305×300×510 mm
Net weight approx. 5,7337 kg

...

Finns oftast för omgående leverans från KERN.

För god hjälp med terminologin kring mikroskop, se mikroskop.se (länkar till annan hemsida).

Offert
Vi skickar dig gärna en offert. Knappen "Lägg i offertkorgen" kan användas för de artiklar på hemsidan som du vill ha offert på. Offerten, som skickas per e-mail om inget annat anges, är helt kostnadsfri. Du binder dig inte till någonting. När du valt önskade produkter för offerten, gå till "Offertkorg" där namn, e-mail och kundslag (landsting, kedja, privatperson) anges. Offert skickas oftast samma dag eller vardagen efter.
Bilagor
Sök reservdelar till denna produkt
Tillbaka