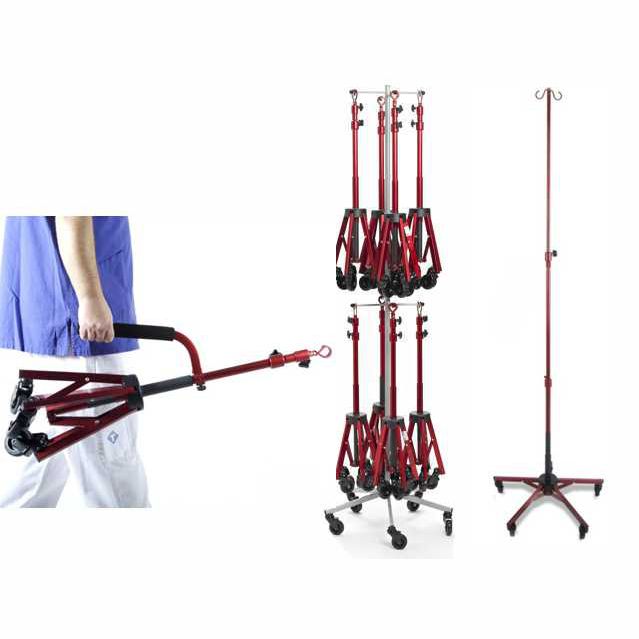 IV stand Violetta, 3-sectioned
Quotes from Sweden about Violetta:
"10 out of 10 points! We used to lack storage space. Now, however, the problem with IV stands in storage rooms that you often stumble on has vanished completely!" // Nurses at LIVA, Astrid Lindgrens Childrens hospital, Karolinska in Solna, Sweden

"Easily manouvered, practical for staff and patients. Easy, light and good. Simple to collapse and bring along." // Marie Roth, Nurse at the AVH-team, Kungälvs hospital, Sweden

"Our staff is very pleased with Violetta. It is easy to bring along to a patient and takes up little space when storing. Violetta has also proven to be very stable when patients are using it themselves." // Kerstin Dribe, Care unit manager at Capio ASIH Dalen, Sweden
................................................



The patented Violetta is an IV stand that saves space. And space is money! You can store up to 16 Violettas on just 0.5 m2 floor space!

Home care


Since Violetta is so light and easy to bring along, home care staff is helped immensely by this solution. No more heavy steel IV stands in and out of cars and in stairs.

Storage


Violetta removes the problem with a forrest of IV legs inside storage rooms. As you can store Violetta hanging, floor space is exposed, which also helps when cleaning.

On our

2 level hanging rack

, you can store up to 16 Violettas on ca 0.5 m2 floor space (8 pcs on a

1 level rack

).

Because of the space saved, Violetta is also a help in early phase of planning a hospital or care institution.

Colour

Do your IV stands tend to disappear to other departments? Since the Violetta IV stand is available in different colours, you can buy Violettas in YOUR colour of choice to your department, eliminating this problem. Violetta is available in colours red, silver, blue and black, red is standard.

Which colour does YOUR department prefer?
Handle

Optional. Removable.

Hooks


Two aluminum hooks is included with Violetta, for hanging bags as well as hanging the IV stand itself. A

set of two extra hooks

is available as option.


May we send you an offer?
This is how it works:
1) "Shop" like in any webshop.
2) Fill in some very basic contact info. The zip code is important to let us calculate freight.
3) Press "send".
The offer, sent by e-mail if nothing else is choosen, is free of charge and any obligations. It will be sent to you as soon as we've received a freight offer from our freight contacts.
Facts
Foot
5-leg foot in aluminum, telescope collapsible

Chassis
Aluminum

Castors
Easy-rolling silent, stable 75 mm castors.

Colour
Red, silver, blue and black

Dimensions
Length 3-sectioned
Operational: Ca 213 cm
Collapsed: Ca 88 cm

Weight 3-delad
3,45 kg

Max load
Pump + 5 kg on the hooks evenly distributed

Film
Attachments
Related products
Sök reservdelar till denna produkt
Back