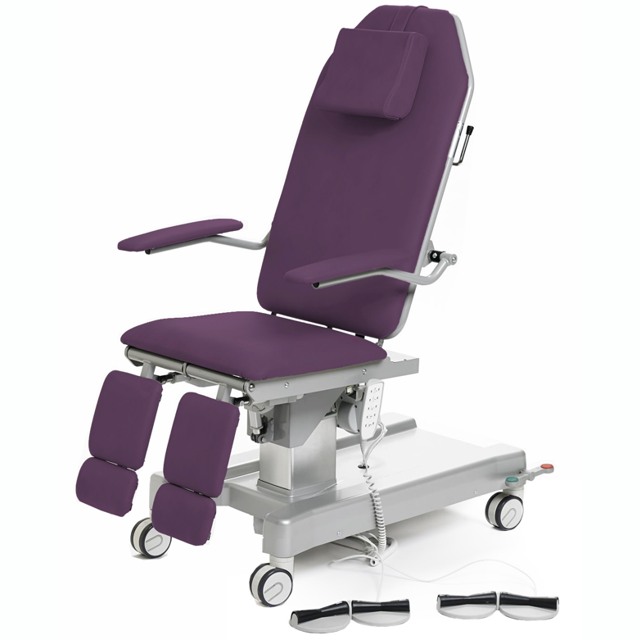 Podiatry chair, electric
Electric with 4 motors, neck cushion, hand and foot controls and central locking castors.
Tarsus' electric Podiatry and Chiropody chair is designed by Tarsus in close consultation with some of Sweden's most experienced and renowned teachers in Chiropody and Podiatry. The result is a practical, user-friendly, ergonomic and very sturdy chair.

With its 4 motors, the chair is easily adjusted to a perfect work posture.



Controls


The hand control has separate up/down buttons for 6 separate adjustments:

* The right legrest

* The left legrest

* Both legrests simultaneously

* The height of the chair

* The seat tilt

* Height, seat tilt and legrests simultaneously - very practical when re-setting the chair from highest position to the patient-step-off position after treatment.

Chassis

All-welded powder-coated steel chassis with central locking castors. Electric height adjustment, sturdy construction.

Seat tilt

Electrically adjustable. The chair may be tilted to Trendelenburg position.

Pads

Foam plastic padding, artificial leather cover, high comfort. Available in many different colours to match the room decor. The backrest pad is available with an

aperture as option

, which makes it possible to use the chair also for massage therapy.

Backrest


Manually adjustable with gas spring.

Legrests


Individually adjustable by motors. The length and heel support adjusts manually. The working height at the heel is max ca 130 cm.

Armrests


Very stable. May be folded backwards if the patient needs to get on/off the chair from/to a wheel chair or bed. Pad size 41 x 9 cm (L x W).

Height under the chassis


Ca 13 cm to the cover. 5 cm to the column.

Castors


100 mm central locking castors included. Release/lock all castors with one press.

Motors and controls


220-240 V, controls 24 V. Foot Controls plus a hand Control included as standard.

Hand controls


The hand control included is wired, while a

wireless hand control

is optional. Apart from the 4 up/down controls for separate adjustment of the 4 motors, the hand Control also includes a function that adjusts 4 motors simultaneously (the angle, height and both foot rests). It's meant as a reset button after a treatment is finished and the patient is to get off the table.

The hand Control can be stored hanging on included hooks on both sides.

Seat tilt


Electrically adjustable.

Neck cushion


Included, very comfortable. Ajustable up/down.


May we send you an offer?
This is how it works:
1) "Shop" like in any webshop.
2) Fill in some very basic contact info. The zip code is important to let us calculate freight.
3) Press "send".
The offer, sent by e-mail if nothing else is choosen, is free of charge and any obligations. It will be sent to you as soon as we've received a freight offer from our freight contacts.
Facts
Dimensions
Length with extended footrests: 202 cm.
Length with minimized footrests: 180 cm.
Leg and footrest length from end of seat: Including footrest 40-62 cm, excluding footrest 27 cm.
Width: 55 cm.
Height: 53-93 cm.
Max height at patient heel: 130 cm.
Weight: 95 kg.
Lift capacity: 160 kg.
Seat angle: 0-24º.
Backrest angle: 0-71º.

View colors
Attachments
Related products
Sök reservdelar till denna produkt
Back