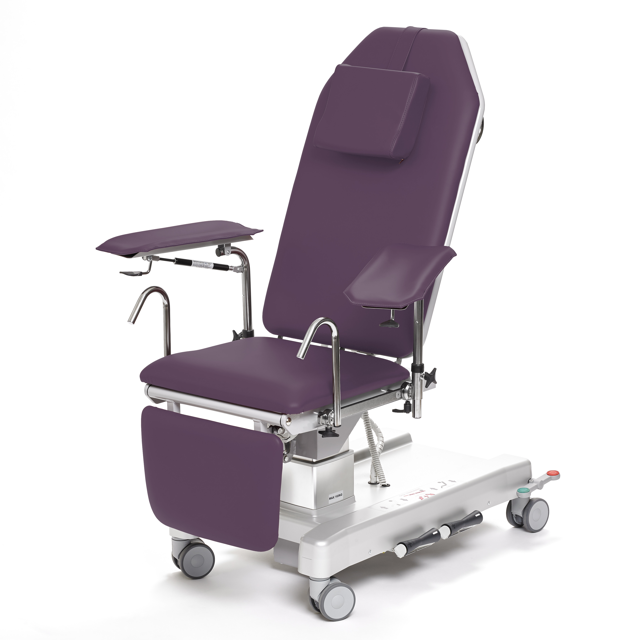 Blood sample chair electric on Linak column
The blood sample chair built around a Linak column is a compact, user-friendly, ergonomic and very stable chair. With its four motors it can very easily be adjusted to a correct work position.



Chassis
All-welded powder-coated steel chassis. Electrically adjustable, very sturdy construction. The chair may be adjusted from blood sample position to Trendelenburg position with one press of a pedal.

Height
Electrically adjustable 48-80 cm.

Trendelenburg
Electrically adjustable. Since the Trendelenburg is activated by one push on the foot Control, the nurse may have the hands free for tending to the patient and needle.

Backrest
Electrically adjustable.

Legrest
Electrically adjustable.

Neck cushion
The included neck cushion is very comfortable, it's adjustable up and down.

Castors
100 mm central locking castors are included. With the easy-rolling and very stable castors, the chair may easily be rotated during blood sampling or moved for cleaning. The castors are sturdy enough for emergency transports if needed.

Pads
Filled with foam plastic, covered with artificial leather, several colours.

Armrests
The included armrests are stable, they may be adjusted in height, angle and swivel. The arm angle is variably adjusted by a gas spring. They may also be adjusted forwards/backwards along the accessory rails or removed completely, which helps when movin a patient to/from a bed or wheel chair. The armrest pads sized ca 46x19 cm are removable and exchangable.


Patient handles


Included. An excellent support when getting on/off the chair. Adjustable forwards/backwards along the accessory rails or removed completely, which helps when movin a patient to/from a bed or wheel chair.

Motors & Controls


220-240 V, hand/foot controls 24 V. The foot controls are placed onto the chair above the floor, a great advantage from other chairs. No control cables or controls on the floor. The hand Controls are hanged onto designated hooks.

The designated hooks

On the backrest of the chair are two handles placed. They may be used for hanging the hand Controls but also works as steering handles during emergency transports. If so desired, you can replace the hooks with a

paper roll holder

, mounted in the same holes.

Battery backup
Battery backup

is available as option.


May we send you an offer?
This is how it works:
1) "Shop" like in any webshop.
2) Fill in some very basic contact info. The zip code is important to let us calculate freight.
3) Press "send".
The offer, sent by e-mail if nothing else is choosen, is free of charge and any obligations. It will be sent to you as soon as we've received a freight offer from our freight contacts.

Facts
Dimensions
Total length: 174 cm
Backrest length: 90 cm
Seat pad length: 48 cm
Leg plate length: 31 cm
Width: 55 cm
Leg plate width: 48 cm (42 på smalaste stället)
Height: 48-80 cm.
Weight: 93 kg
Lift capacity: 165 kg

View colors
Attachments
Sök reservdelar till denna produkt
Back