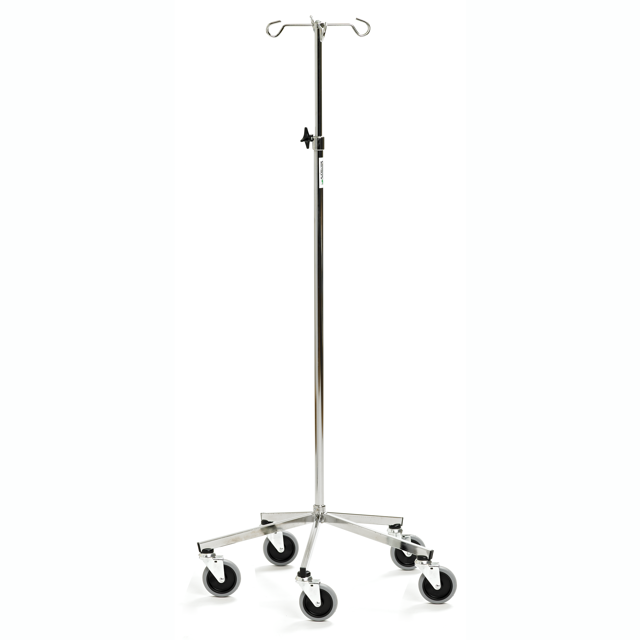 IV stand, low foot
Steel chassis, height adjustable, four hooks.

75 mm castors, no handle.
Our IV stands are developed in accordance with Sweden's very high demands for quality, functionality and stability.

Chassis
In all-welded chromium-plated steel tubes, with 4 hooks.

Locking mechanism
The knob has an expander type locking mechanism, which means that it locks around the whole inner tube, which gives a soft and effective lock. This prolongs the Life span of the IV stand.

Handle
The Iv stand is available with or without a handle. The handle is adjustable in height and removable.

Foot
The design of the 5-leg foot provides for stability.

Ground clearance
Ca 21 cm (with 100 mm castors)

Castors
The low foot IV stand is available with 75 or 100 mm castors, two of which with locking device. Easy-rolling and stable castors provides for a safe transport. The IV stand with a bit higher foot has always 100 mm castors.

May we send you an offer?
This is how it works:
1) "Shop" like in any webshop.
2) Fill in some very basic contact info. The zip code is important to let us calculate freight.
3) Press "send".
The offer, sent by e-mail if nothing else is choosen, is free of charge and any obligations. It will be sent to you as soon as we've received a freight offer from our freight contacts.
Film
Attachments
Related products
Sök reservdelar till denna produkt
Back