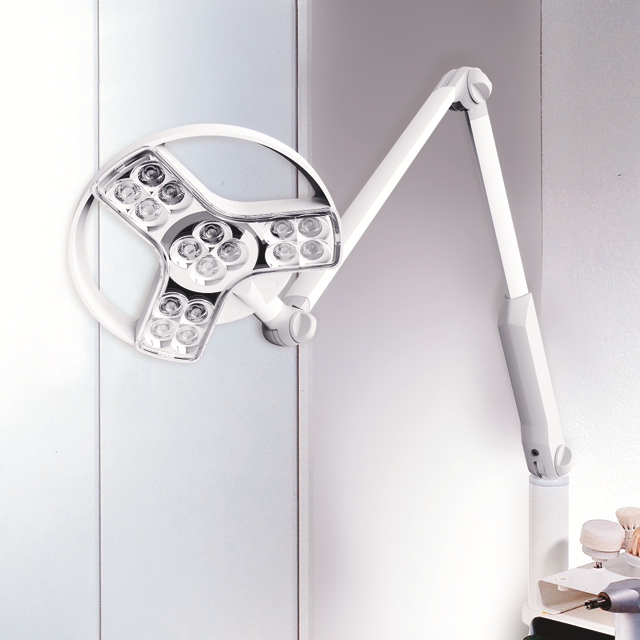 Visiano LED 20-2 P TX, floor/wall
Modern wall/floor luminaire.

Illumination strength dimmable in 4 stages

Maximum operating radius (head can be rotated about 360°)

60 000 lux at 0,5 meter
Visiano, the floor/wall version.

Lighting without compromises is essential wherever demands on viewing are highest. Be it in general or dermatological practice, in ENT or gynaecology, in highly sensitive stations such as neonatology or intensive care: the VISIANO 20-2 is a true multi-talent. Due to its unique design, state-of-the-art lighting technology and highest light quality, it provides perfect examination conditions.

•LED technology
•Illuminated field 210 mm
•Precise colour rendering Ra >95, R9 >90
•Colour temperatures (3500K and 4500K) allow individual contrast viewing
•Illumination strength dimmable in 4 stages
•Highest light quality due to diamond optics
•Antimicrobial hygiene function on important lamp components (optional)
•Easy operating unit on head
•Maximum operating radius (head can be rotated about 360°)
•Excellent ergonomics due to spring-balanced aluminium arm system
•Minimum maintenance costs due to LED technology
•Slight thermal radiation in light (reduced drying of tissue)
•Complies with the requirements of standards EN 60601-1 and EN 60601-2-41

May we send you an offer?
This is how it works:
1) "Shop" like in any webshop.
2) Fill in some very basic contact info. The zip code is important to let us calculate freight.
3) Press "send".
The offer, sent by e-mail if nothing else is choosen, is free of charge and any obligations. It will be sent to you as soon as we've received a freight offer from our freight contacts.

Film
Attachments
Related products
Sök reservdelar till denna produkt
Back