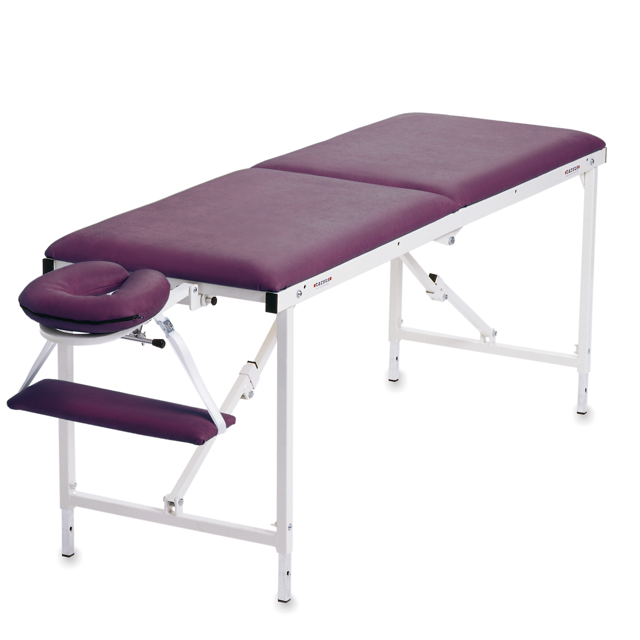 Portable table TE
Item No: 002-bredd-färgkod
Model TE includes an adjustable headrest with a hanging arm cradle. The pillow is fastened with Velcro and may be adjusted forwards/backwards. The arm cradle is height adjustable. The adjustability of the headrest helps find an ideal position for treatment.

The headrest folds in during transport, you don't need to remove it.

To fit your specific work and taste, model TE is available...

* in widths 45-70 cm
* in 14 pad colours
* in white or black powder coated chassis
* with 4 cm padding as standard or (6 cm as option)
* height adjustable between 60-80 cm as standard, 70-90 cm as option.

Like all of our portable therapy tables, model TE has only 2 leg pairs. The thought behind this design is that the leg room must be free for the therapist underneath the table during treatment.

The legs may be placed under the table even if you sit from the shortend side.

See also our different accessories to model TE.

One huge advantage, and unique, with the Tarsus massage tables is that models TE, MA and ZON may be used together with our height adjustable electric or hydraulic chassis.

May we send you an offer?
This is how it works:
1) "Shop" like in any webshop.
2) Fill in some very basic contact info. The zip code is important to let us calculate freight.
3) Press "send".
The offer, sent by e-mail if nothing else is choosen, is free of charge and any obligations. It will be sent to you as soon as we've received a freight offer from our freight contacts.
More images
View colors
Film
Attachments
Sök reservdelar till denna produkt
Back