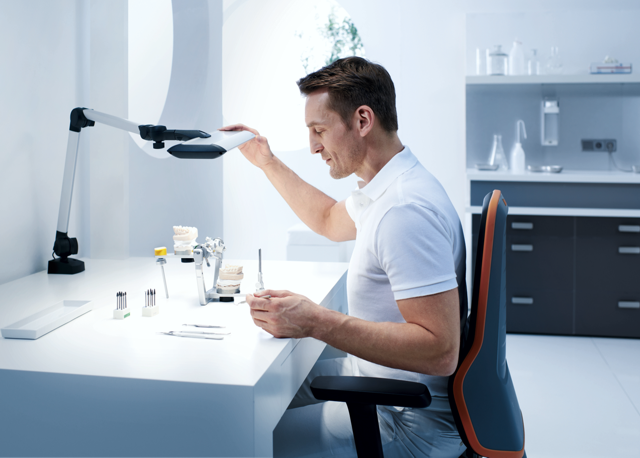 Taneo Universal STZL 12 R, 14W
For dental and other laboratories.
Item No: 113734000-809715
Dental laboratories place particularly high demands on light quality. The many ingenious features of the arm-mounted LED luminaire TANEO make it ideally suited to the needs of a dental laboratory workplace.

TANEO spreads a lot of light with up to 3,600 lx
The good glare control and uniform, homogenous light reduces eyestrain
An optimal recognition of colours and contrasts is realized with a high colour rendering value and a high colour temperature
Via dimming the amount of light can be adapted to the visual task or individual needs
The balanced arm can be effortlessly adjusted and nevertheless rests in position

Further options for optimal lighting offers the system luminaire TAMETO in the same design.

May we send you an offer?
This is how it works:
1) "Shop" like in any webshop.
2) Fill in some very basic contact info. The zip code is important to let us calculate freight.
3) Press "send".
The offer, sent by e-mail if nothing else is choosen, is free of charge and any obligations. It will be sent to you as soon as we've received a freight offer from our freight contacts.
Sök reservdelar till denna produkt
Back