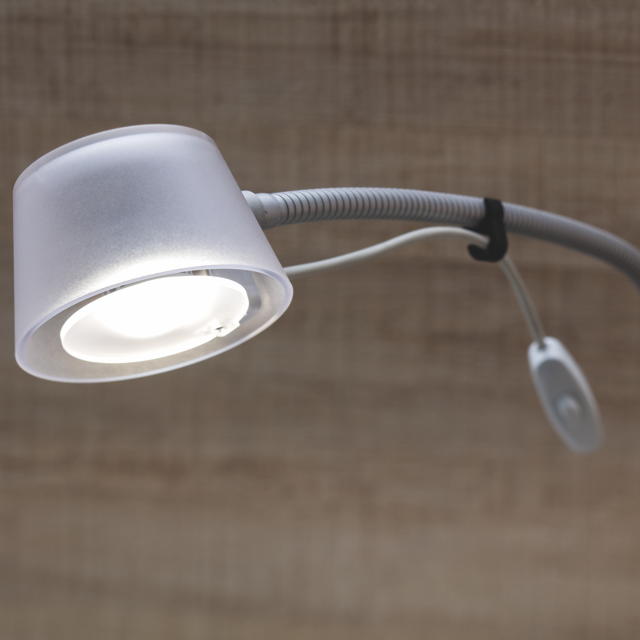 Reading luminaire Culta S 4 P S3
A pleasant, glare-free light delivers optimum reading comfort
Easy and intuitive to operate? Stable and valuable construction type? Large and uniform light field?
The answer is simple: CULTA LED.

What a bedside reading light really should be. The pleasant, glare-free light delivers optimum reading comfort. Everyday compatibility is assured by the
resilient shape of this lamp, its robust linkage and its universal range of connection options.

The light head can be rotated around 240°. Easy to position with its goose-neck linkage. Elegant design for home use. Intuitive operation with cord switch. Satinised lampshade.

Suitable for rooms used for medical purposes, as defined in DIN 60598-2-25, as well as in care establishments

The Culta LED is characterized by its user-friendly operation and its sturdy design. The large light field provides a good ambiance for reading in the patients' and residents' rooms. The approval for medical premises according to DIN 60598-2-25 and care facilities is an added advantage with regards to safety.

May we send you an offer?
This is how it works:
1) "Shop" like in any webshop.
2) Fill in some very basic contact info. The zip code is important to let us calculate freight.
3) Press "send".
The offer, sent by e-mail if nothing else is choosen, is free of charge and any obligations. It will be sent to you as soon as we've received a freight offer from our freight contacts.

Sök reservdelar till denna produkt
Back