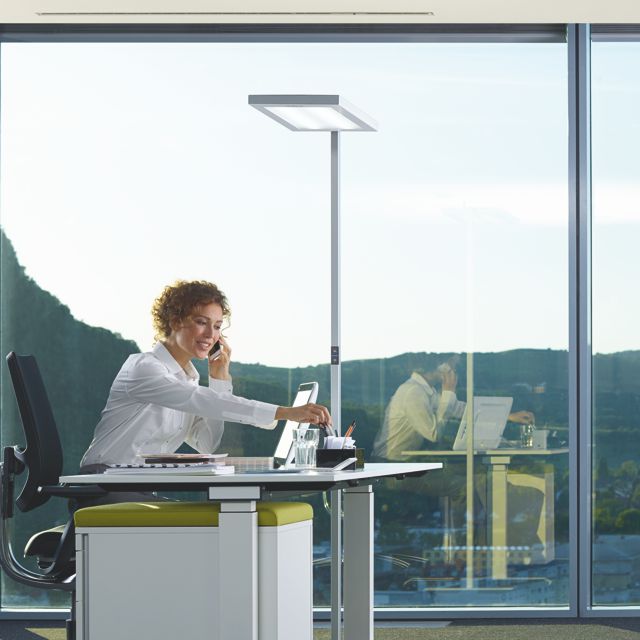 LAVIGO luminaire
The new LAVIGO free-standing luminaire is therefore equipped with an asymmetrical indirect light component. Due to the lighting control in the room, the complete lighting focuses on the area where the visual tasks are being carried out and does not radiate outwards when placed near a window. The homogenous light-emitting surface of the newly-employed edge light technology creates a particularly beautiful light effect. The luminaire provides a powerful output of approximately 14,000 lumens.

The second variant is distinguished by a long, narrow luminaire head and, at 16,000 lumens, it is the most powerful of free-standing luminaires from Waldmann to-date. The placing of this LAVIGO, which extends far beyond the workstation, creates an impression of a particularly uniform light.

Both innovations are equipped with current light engines and constitute a lighting evolution of the luminaire family to date. Their increased light yield of 130 lumens per watt attests to their high energy efficiency. The luminaires are particularly suitable for rooms with depths and are designed to illuminate two large desk surfaces having a depth of up to 1.80 m. The illumination conforms to standards. Both variants are equipped with a PULSE PIR motion and daylight sensor and are available in white and silver metallic.

May we send you an offer?
This is how it works:
1) "Shop" like in any webshop.
2) Fill in some very basic contact info. The zip code is important to let us calculate freight.
3) Press "send".
The offer, sent by e-mail if nothing else is choosen, is free of charge and any obligations. It will be sent to you as soon as we've received a freight offer from our freight contacts.

Sök reservdelar till denna produkt
Back