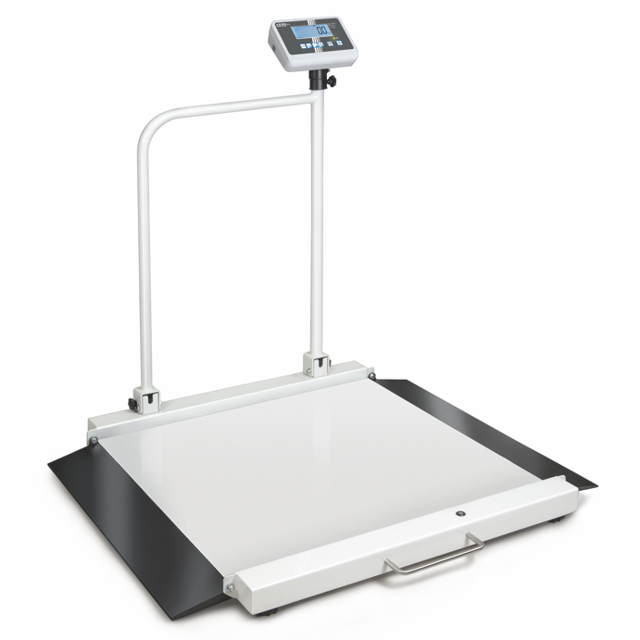 Kern Platform and wheel chair scale MWA
Platform scale with two integrated ramps.

Especially suited for wheel chair-based weighing.
German quality products since 1844
Professional platform and wheel chair scale

Wheelchair platform scale with two integrated access ramps for easy access. The large platform also makes it suitable for obesity weighing.

EC type approval (CE). Approval for medical use according to 93/42/EEC. Including verification class III.

Very robust design. Including a level indicator to level the balance precisely.

HOLD function
When patients do not stand completely still, a stable weight is calculated using an average weight which is then "frozen". This means that you have sufficient time to attend to the patient first and then take the weight reading in peace

Rechargable battery pack is optional.

Rail
On model MWA 300K-1PM a foldable rail is included with attachment for sidplay. Extra non-foldable rail is available as option.

Technical info
Size without rail 1180x1000x1130 mm
Display digits ca 25 mm high
Cable length ca 180 cm
Weight 76 kg
Max load 300 kg

May we send you an offer?
This is how it works:
1) "Shop" like in any webshop.
2) Fill in some very basic contact info. The zip code is important to let us calculate freight.
3) Press "send".
The offer, sent by e-mail if nothing else is choosen, is free of charge and any obligations. It will be sent to you as soon as we've received a freight offer from our freight contacts.

Attachments
Sök reservdelar till denna produkt
Back