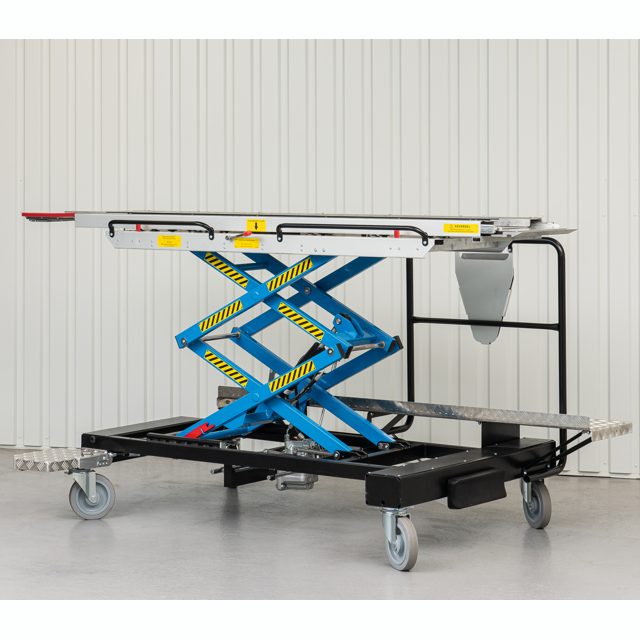 Airport emergency transport trolley
For transport of patient between ambulance and aircraft.

Including ramp.
Our airport emergency transport trolley is used when transporting a patient stretcher to and from ambulance / aircraft.

It's been developed in consultation with emergency healthcare and airport professionals with emphasis on functionality, user-friendliness and security.

Designed for outdoor use. Stored under roof.

Design
Chassis and lift in all welded and powder-coated steel. Adjustable top for easy adjustment against aircraft. Integrated slide to make the transfer of a stretcher go smoothly.

Including platform and protective rails.

Height
Hydraulically adjustable in height via foot pedals, variably between 600 and 1750 mm.

Castors
200 mm central locking castors.

Dimensions
Length with slide in: 2670 mm
Length with slide fully out: 4046 mm
Width: 1350 mm
Max height: 1750 mm
Min height: 600 mm
Weight: 275 kg

Max load
300 kg

May we send you an offer?
This is how it works:
1) "Shop" like in any webshop.
2) Fill in some very basic contact info. The zip code is important to let us calculate freight.
3) Press "send".
The offer, sent by e-mail if nothing else is choosen, is free of charge and any obligations. It will be sent to you as soon as we've received a freight offer from our freight contacts.
Facts
Dimensions
Length with slide in: 2670 mm
Length with slide fully out: 4046 mm
Width: 1350 mm
Max height: 1750 mm
Min height: 600 mm
Weight: 275 kg
Max load: 300 kg

Film
Attachments
Sök reservdelar till denna produkt
Back