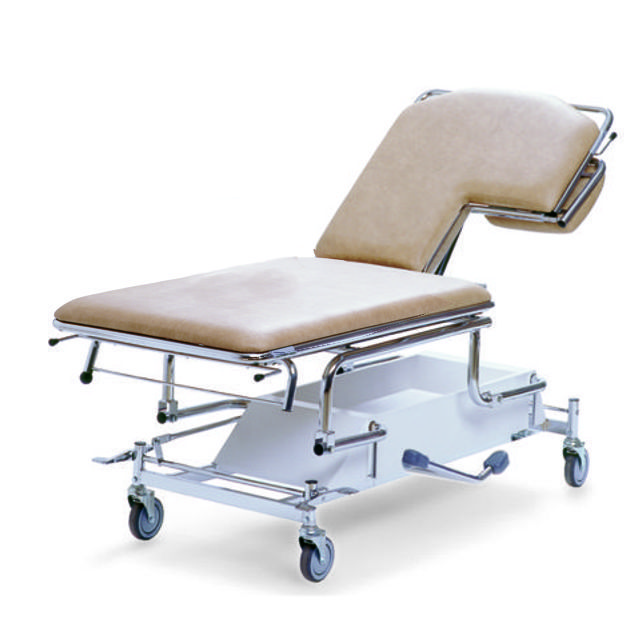 Ultrasound table, hydraulic
With hatch for heart ultrasound
Designed for examination of the heart.
Hydraulic height adjustment.



Hatch for heart examinations


Is adjustable without having to remove it from the table. Hatch size ca 28x28 cm.

Chassis


All-welded chromium-plated steel tubes. Sturdy chassis with four lifting points. The low minimum height, 53 cm, makes it easy for the elderly or children to get on and off the table. Its high max height, 91 cm, helps the staff to achieve an ergonomic work posture. Chromium-plated or powder-coated chassis, hydraulically or

electrically height adjustable

.

Motor


220-240 V/24 V. Hand control (24 V) standard, foot control (24 V) optional. Also available with

battery backup

.

Backrest and Trendelenburg


The backrest and the Trendelenburg position (speedy raising of the foot end if a patient faints) is adjusted manually by means of a gas spring, very easily activated via one of the easily reachable handles.

Pads and colour


The pads are filled with a 4 cm foam plastic, covered in artificial leather available in many different colours to match the room decor. The pads are protected against bumps by a chromium-plated steel frame.

Plastic cover


Protects the hydraulic pump. Integrated storage space. Its smooth design helps when cleaning.

Paper roll holder

A Paper roll holder is included.

Back support
Accessory

. Supports the patient's back while lying on the side. Adjustable in several directions, as well as along the length of the table. Size ca 40x22 cm.

Castors


Four 125 mm castors of which two is locking, one direcional locking and one free castor.

Central locking 125 mm castors with one directional locking

is available as option.


May we send you an offer?
This is how it works:
1) "Shop" like in any webshop.
2) Fill in some very basic contact info. The zip code is important to let us calculate freight.
3) Press "send".
The offer, sent by e-mail if nothing else is choosen, is free of charge and any obligations. It will be sent to you as soon as we've received a freight offer from our freight contacts.
View colors
Film
Attachments
Related products
Sök reservdelar till denna produkt
Back