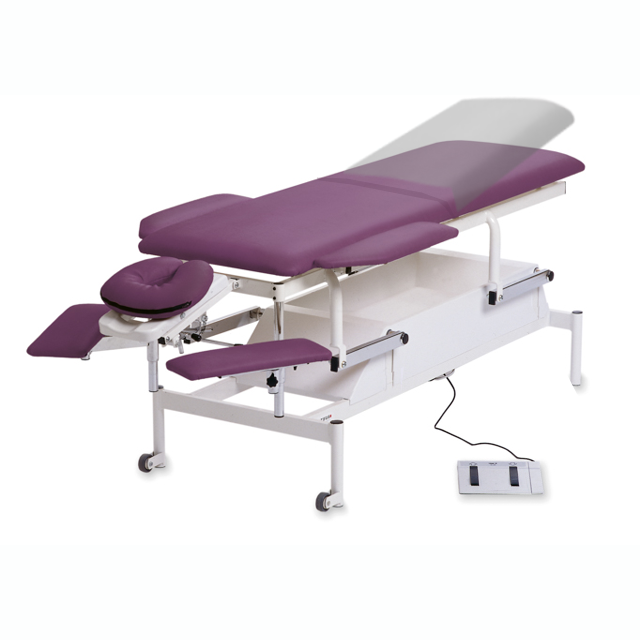 Tarsus Physio 1 electric, adjustable backrest
Physio 1 is used for a wide variety of treatments. It is the most common model for Classic massage therapy. This model, the Electric version, is height adjusted via a foot control.

Physio 1 is available in 4 versions:
* Physio 1 hydraulic
* Physio 1 hydraulic with adjustable backrest/leg section
* Physio 1 electric
* This version, Physio 1 electric with adjustable backrest/leg section. The adjustable backrest/leg section means that the leg pad of the table can be raised, thus enabling the patient to sit with this section as backrest.

Chassis
The chassis is made of powder-coated all-welded steel tubes. The Construction is very sturdy. Its low minimum height and high maximum height makes the Physio table very flexible, user friendly and patient friendly.

Castors
With the Physio 1 table comes a so called Wheel pair as standard, which means two small transport wheels placed just above floor height. To activate them, lift the opposite short-end side (image). Central locking castors or separately locking castors are available as option. Central locking means all castors locks/releases with one press.

Headrest
Tiltable forward and backwards. The backwards motion can, as an example, be used if a pregnant lady isn't able to lie down on the table but prefers to sit on a chair and rest her head in the headrest from the short-end side while having a back and neck massage.

Adjustable armrests
Adjustable in height and around its axis.

Side armrests
Can very easily be folded up in position when needed. Included with all models in widths 45-60 cm (70 is the only exception). The pad is ca 14 cm wide and 51 cm long on its longest point, 36 at its shortest.

May we send you an offer?
This is how it works:
1) "Shop" like in any webshop.
2) Fill in some very basic contact info. The zip code is important to let us calculate freight.
3) Press "send".
The offer, sent by e-mail if nothing else is choosen, is free of charge and any obligations. It will be sent to you as soon as we've received a freight offer from our freight contacts.
Facts
Length: Ca 195 cm. Since the head cushion is movable along the headrest, the length is a bit flexible
Width: 45, 50, 55, 60 or 70 cm. Note that no side armrests are included with width 70 cm
Height: Ca 52-90 cm (standard). Extra low (48-88 cm) is available as option, then with central locking castors.
Weight: Ca 50 kg
Side armrests: Widens the table ca 30 cm.
Adjustable armrests: 40x15 cm.
Angle adjustable backrest/leg section: 68°
Angle headrest: 90° down, 45° up

More images
View colors
Film
Attachments
Sök reservdelar till denna produkt
Back