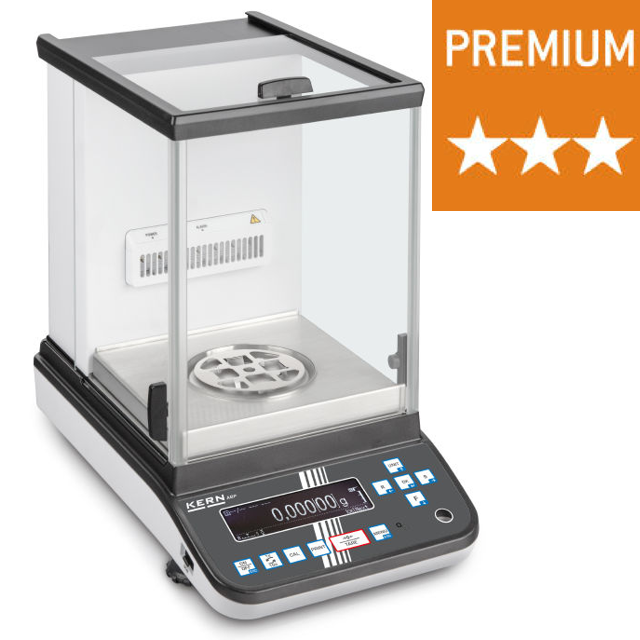 Kern analytical balance ABP
Premium analytical balance with the latest Single-Cell generation for extremely rapid, stable weighing results


German quality scales since 1844

Premium analytical balance with the latest Single-Cell generation for extremely rapid, stable weighing results. This new generation of analytical balances combines the highest level of precision with large weighing ranges. Thanks to the new Single-Cell Generation, the weighing result is displayed in a fraction of the time with comparable models.

* Navigation pad for rapid navigating through the menus.
* Automatic internal adjustment in the case of a change in temperature > 1 °C and time-controlled every 4 hours, guarantees high degree of accuracy and makes the balance independent of its location of use.
* The Minimum weight of sample can be manually stored in the device or automatically calculated. For weighings below this value, the balance issues a warning message
* Dosage aid: High-stability mode and other filter settings can be selected
* Simple recipeweighing and documenting with a combined tare/print function. In addition, the mixing ingredients for the recipe are numbered automatically and printed out with their corresponding number and weight value.
* Individual user settings for up to 10 users can be saved: user name/number (can be printed out or added to the record for each process), password, menu language, user profiles, accessing user settings via barcode, additional guest mode for users who are not logged in eg. balance adjustment, changing, settings or conditioning or modification of a recipe only by the authorized person & performing the formulation by the user
* U.S. FDA 21 Part 11: assists you in data integrity in accordance with U.S. FDA 21 Part 11 (for example weighing result, sample ID, user name, scales ID, ...)
* Menu language DE, GB
* Automatic data output to the PC/printer each time the balance is steady
* Large glass draught shield with 3 sliding doors for easy access to the items being weighed

DAkkS calibration certificate is optional.

Technical data
* Luminescent OLED display, digit height 14 mm, bright with high contrast, for easy reading of the weight, even in poor lighting conditions
* Dimensions weighing surface ∅ 91
* Overall dimensions (incl. draught shield) W×D×H 213×407×344 mm
* Weighing space W×D×H 166×156×220 mm
* Net weight approx. 8 kg
* Permissible ambient temperature 10 °C/30 °C

May we send you an offer?
This is how it works:
1) "Shop" like in any webshop.
2) Fill in some very basic contact info. The zip code is important to let us calculate freight.
3) Press "send".
The offer, sent by e-mail if nothing else is choosen, is free of charge and any obligations. It will be sent to you as soon as we've received a freight offer from our freight contacts.
Attachments
Sök reservdelar till denna produkt
Back